The perfect alternative way to become a business owner is to buy a franchise.
A franchise is an authorization granted by a government or private company, allowing the owners to operate on behalf of the company. The franchise business has grown because more people are interested in taking these franchise opportunities to increase their earnings.
Out of numerous opportunities available, many claimed to have the highest return. This post provided a list of the most profitable franchises and other details.
These franchise companies not only hold the highest average annual income but are major and established brands across the US. Does owning a profitable franchise make you rich? Read on.
Does Owning a Franchise Make you Rich?
The answer to this question is not a simple yes or no. While owning a franchise can certainly lead to increased earnings and wealth, it is not a guarantee.
There are a number of factors that contribute to how successful a franchise will be, including the industry you choose, the location of your business, and the level of effort you put into marketing and managing your franchise.
As well as the initial investment that is needed to open and operate the franchise can range from a few thousand dollars to over a million dollars.
That said, there are many franchise opportunities that are very successful and can provide owners with a comfortable income.
If you are interested to have your own business through franchising, it is important to do your research. Then find one that has a high chance of success in order to maximize your chances of achieving wealth.
Most franchises do well because customers understand their operations and trust the brand. For example,
A McDonald's franchise will likely do well, regardless of its location in the world. They have decades of goodwill and customer relationship leading to great sales.
Besides, the franchisor provides their franchisees with the best marketing and extensive business support to generate revenue.
However, some factors matter for the success of the franchise business, such as follows.
It may seem like very little, but these few factors can add up to a large amount of the total revenue leading to a significant difference in the overall revenue.
However, these costs are essential when it comes to running the business efficiently or expanding it as it grows.
Controlling and managing these expenses allows franchise owners to avoid business loss. It also effectively allocates the financial resources at hand.
How to Measure Franchise Profitability
There are a few necessary considerations in order to evaluate the profitability of a franchise.
Franchise Fee:
The franchise fee is the amount of money that the franchisor charges for the right to use their trademarks, trade secrets, and business model. This fee can range from $10,000 to $500,000 or more.
Initial Investment:
This is the amount of money that is needed to open and operate the franchise. This can range from a few thousand dollars to over a million dollars.
Net Operating Income (NOI):
This is the most important metric when evaluating the profitability of a franchise. It is calculated by subtracting all of the operating costs from the revenue generated by the business. This will give you an idea of how much profit the business is making.
Return on Investment (ROI):
This measures how profitable an investment is in relation to how much money was invested. The higher the ROI, the more profitable the investment is.
Cash Flow:
This measures how much cash is coming into and leaving a business each month. This is important when determining how long it will take for an investment to be paid off.
Top 14 Most Profitable Franchises
Now that you understand the franchising business, why you should own a franchise, and the factors making a successful franchise, let's talk about the 14 most profitable franchises. 
Here we covered various industries, from fast food industry, fitness & wellness, cleaning, hair salon, and travel agency to home inspection.
Most Profitable Fast Food Franchise Opportunities
1. McDonald's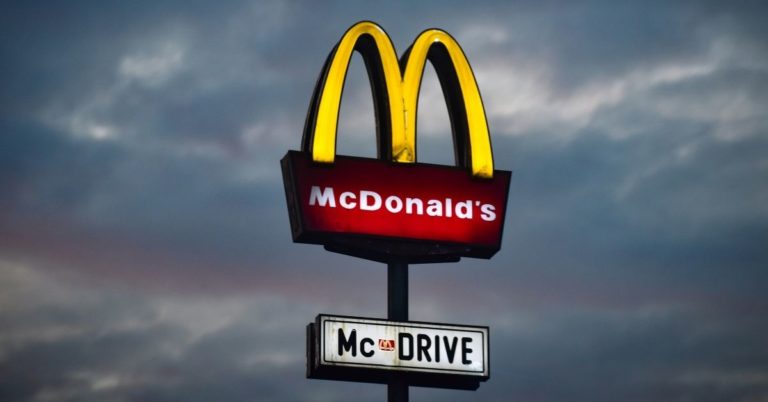 McDonald's is a one-of-a-kind experience that has no equal when it comes to menu items and services. For decades, the golden arches have been at the apex of fast food chains, with locations in more than 119 countries worldwide. 
Not only does this make McDonald's universally accessible, but its superior reach also makes it an incredibly profitable business venture as well!
Their success and profitability have been achieved through leveraging these powerful factors.
Incredible Brand Value
McDonald's has one of the most recognizable and successful brands in the world. They are more than just fast food. They offer a lifestyle that customers can't resist, and its branding strategies over the years have kept it at the top of their game in terms of customer loyalty.
 This chain business has extraordinary marketing capabilities to bring together customers from various backgrounds to share the McDonald's experience.
Successful Franchise Model
McDonald's famous franchise business model has been an integral part of its success over the years.
Their franchisees are the lifeblood of the business and the company provides a myriad of support to help them run their restaurants. They are provided with operational advice and training, as well as access to leading-edge technology and appliances that allow them to keep up with industry trends.
Global Reach & Presence
Boasting countless stores throughout the globe, this giant company has managed to uphold a consistent brand image and quality standard in all of its outlets. 
Moreover, it is always ahead of competitors when it comes to digital advances; utilizing modern technology so as not only to stay relevant but advance with the ever-evolving consumer landscape.
Their Commitment to Quality
They have always been committed to providing quality food. The business has taken a giant step towards sustainability with its commitment to removing antibiotics classified by the World Health Organization.
They constantly looking for ways to improve their processes and products, making them a profitable business to own. And McDonald's commitment to their customers and its bottom line is the reason why it continues to be one of the most successful businesses in the world.
All these features make them an ideal choice for a profitable business venture, whether you are a new or established entrepreneur.
2. Dunkin Donuts
It is the most popular brand for its quality donuts and coffee. It is one of the highest-earning franchises in the U.S. and worldwide, making it next on our list.
The company has grown from a small coffee shop in the 1950s to one of the world's largest food chains.
There are more than 11,300 Dunkin Donuts globally, making it the fastest-growing food chain and one of the most profitable franchises. The company also provides franchising to deserving candidates
How much do the Dunkin franchise owners make?
Franchise Business Review estimated the average Dunkin' franchise today is generating net profits of roughly 8 percent to 12 percent – slightly higher for some of their top-performing operators.
3. Taco Bell
Taco Bell is another popular fast food chain that you must consider if you want to enjoy monthly highly rewarding profits. It is one of the safest options in the market and is best known for unique and innovative products and menu changes.
They have been around for more than 5 decades, it's clear that they have no plans of going anywhere anytime soon. Investing in this food franchise could be the life-changing decision you've been looking for! Why?
For instance, recent research has shown that investing in a Taco Bell franchise is one of the most profitable franchise businesses. 
According to its FDD (Franchise Disclosure Document) records, on average franchise owners and investors only have to wait 1.9 years before they get back their initial investment – an outstanding return!
The initial franchise fee and the startup costs to open a Taco Bell are based on which type of unit you select. With such longevity and stability within their business model, investing in this franchise would be an ideal way to turn your dreams into reality.
4. Subway Franchise
Subway is an international food business that operates worldwide. They have thousands of shops around the globe, making them one of the most reputable brands for franchising and higher ROI.
Subway is one of the highest-rated companies, with multiple stores across the U.S. alone. They call themselves a healthy fast food option, thanks to their extensive range of flavors, bread, and sauces.
How Much Profit Does the Subway Franchise Make Per Year?
Substantial profits await with a Subway Franchise – 7.5% of their annual sales to be exact, which breaks down to roughly $31,000 yearly!
Despite not raking in as much revenue compared to other food franchises annually, the initial franchise fee is lower than these established competitors. It's clear that investing in Subway has the potential for big pay-offs.
Most Profitable Franchises (Fitness and Wellness)
5. Anytime Fitness Franchise
Anytime is a relatively new company that started in 2002 and become the fastest-growing gym franchise. It offers various services, including group workouts, Crossfit, weightlifting, etc.
The company has thousands of new members yearly and is projected to double its members in the next few years. It has over 4,000 franchises in around 40 locations, making it one of the most profitable franchise health and fitness business models worldwide.
The best part about Anytime Fitness is that they operate 24 hours, 365 days a week. It allows fitness enthusiasts to work on their physiques without worrying about their schedule.
6. Sonic
Sonic is an American fast food brand best known for its cold drinks and beverages. They have some of the finest assorted eatables, making it a fast-growing food chain across the U.S. Sonic has one of the simplest B2C business structures that have contributed to its success over the years.
Sonic has several franchises and stores in 46 states, making it one of the quickest spreading companies for beverages out there. 
If you're looking for good revenue and high profit by the end of the year, Sonic is the best franchise opportunity to own.
What makes Sonic special as a franchise is its growth potential in general. Today, it is one of the most ambitious brands for visitors who want to get good revenue from their business.
7. Planet Fitness
They have been operating for over three decades and have grown into one of the most successful business ventures. 
Planet's franchise business has focused mainly on catering to the needs of its customers, which has allowed it to grow into a successful business.
However, what makes them different than other wellness is that it discourages hardcore bodybuilders. They promote a more balanced fitness lifestyle and changes users can stick with as a long-term plan.
The customers at Planet have some of the best options for exercisers because of a higher fee structure.
Non-serious fitness enthusiasts stay away from Planet, providing the ones serious about their health a fair chance.
Taking Planet as a franchise could elevate your business like never before by introducing some of the highest paying revenues you have had in your life. Their unique business model has inspired them to stay afloat for all these years.
8. Orangetheory Fitness
Orangetheory is a franchise that uses heart-based exercise to promote health and wellness in individuals. It is a successful business platform and has grown over a short period.
The main selling point of the brand is its excess post-exercise oxygen consumption, or EPOC, which helps you enjoy an amazing workout. People all over the U.S. have loved Orangetheory Fitness's approach to the industry.
Members who participate in structured and experience classes will be guided by professional coaches and experts. 
On the other side, the audiences they catered are as little as 16 years of age. This franchise continues to grow with over 300 units under their working.
The investment-to-revenue ratio is quite positive and the franchise could prove as a good option.
Most Profitable Cleaning Franchise
9. Jan Pro
Jan-Pro is a cleaning and disinfecting company famous for its worldwide operations for cleaning and maintaining properties.
They offer a wide array of services, including duct cleaning, office cleaning, home disinfection, etc. It has over 8,000 franchises, all are fantastic for a cleaning company.
They've enjoyed a consistent financial performance. They have outlets and stores worldwide, making it the best opportunity for franchise owners looking for more opportunities in multiple locations.
Jam-Pro provides excellent cleaning services to over a million customers annually, allowing them to top the market quickly.
Most Profitable Hair Salon Franchise Opportunities
10. SuperCuts
SuperCuts is one of the leading hair salon franchises in the U.S., with over 1,200 franchises worldwide—a business model that continues its success today.
The brand has a long-running reputation for providing grooming and hair care services. It caters to men and women, making it the perfect choice for anyone in the U.S. looking for a professional hair salon.
SuperCuts has shown tremendous financial growth in the industry, making it a profitable franchise store in the market. The main reason for the brand's success is its low costs for a unit.
Therefore, franchisees looking for a business with a mediocre franchise fee can easily find their required shops in the best locations.
They have the most famous for professional, pleasant service that you can leverage to maximize through franchising in the industry.
Most Profitable Multinational Pizza Chain
11. Pizza Hut
Pizza Hut is one of the most iconic pizza brands worldwide. Its unique business model has remained successful for around six decades, making it one of the best-suited brands for franchising. They had over 18,381 restaurants in 2021, which has increased over the years.
Pizza Hut is the go-to brand for most pizza lovers worldwide because they have focused on making their brand the best franchise in the industry. 
It has also been a part of the franchise 500 counter several times, making it one of the most profitable franchise opportunities available in the market.
Most Profitable Shipping Franchise
12. UPS Store
UPS is a sub-company of the United Parcel Service that provides various services for the customer UPS store has a long-running history of providing deliveries, packaging, and more.
They offer top services, including the following:
The versatile services offered by UPS have made it one of the well-reputed companies available for customers who want to make deliveries on time and ensure their profits and sales stay up in the long run.
They provide franchising to those who meet the requirements and present the franchise fee on time. UPS has a lot of potentials since we are shifting to a digital world, and most of the parcels will reach us through these services.
Purchasing a UPS shop will make it easier for investors to earn more profits from the branch and use it to extend their own business.
Travel Agency Franchise
13. Dream Vacations
The vacation and travel industry is one of the highest-grossing industries in the world at the moment. Various companies try to top the business because of high demand. However, only a few make it as massive as the Dream Vacations Company.
Over the past four decades, they've grown into one of the top sites for booking and vacations. The Dream Vacations websites manage and host all kinds of international travel for their customers for affordable prices.
These qualities have allowed Dream Vacations to grow into one of the well-regarded companies around the world.
The brand also has thousands of franchise opportunities and shops operating globally, making it the ideal choice for those who want a unique vacation experience. It lets professionals handle the troubles of managing a trip to their favorite destinations.
Home Inspection Franchise
14. Pillar to Post Home Inspectors
Pillars to Post Home Inspectors are a full home inspection business that provides evaluation and inspection for home safety mechanisms and options. They have all sorts of protective inspections like water leaks, cost estimation, water testing, and pest inspection.
They are one of the oldest one in the business and has managed to spread over almost 3 decades of its operations.
Pillars to Post Home Inspectors are known for their initial franchise fees. However, some people have questioned whether fees are fair.
After all, you're essentially paying for the right to use the Pillars to Post name and brand.
Plus, Pillars to Post has a proven track record of success, so you know you're investing in a company that has a solid reputation. In the end, we believe that the initial franchise fee is fair and worth the investment.
Unlock the Most Profitable Franchises Today!
If you're looking for a business venture that offers the potential to be lucrative, exploring some of America's most profitable franchise opportunities is an excellent starting point. With due diligence and commitment, you can ensure your success by finding the right fit for you.
Don't forget to investigate financing options too since many require start-up capital investments in order to get started.
It may take some effort to internalize and understand the elements presented in this article, yet leveraging these tips to run your franchise opportunity is advantageous.
To start off on the right foot, make sure you utilize these items or talk with a franchise consultant to assist in your franchising journey.