One of the leading opportunities in franchising is the boutique fitness franchise. As a matter of fact, there are around 106,000 gym and boutique fitness franchises in the US as of January 2022. In 2021, the fitness franchising industry has reached 33.25 billion US dollars in total market size. That's amazing!
Consumers interested in health and wellness are steering more away from big corporate gyms. Towards smaller boutique fitness opportunities, a casual atmosphere, and other perks. 
If you have an interest in owning a boutique fitness franchise business, opening a boutique fitness franchise or boutique gym franchise may be the perfect avenue for you!
What is a Boutique Fitness Franchise?
This business type promotes healthy living. Boutique fitness franchises is designed to cater to customers who have or want to have an active lifestyle. It became a franchise if you want to own an established brand.
Purchasing this business type through franchising makes up a boutique fitness franchise. This is the easiest way to attract your target market.
Studies show that there is an increasing number of obesity cases, depression, anxiety attacks, and some unhealthy ways of living for Americans. This occurred since the Covid-19 pandemic kicked in.
Besides that, health-conscious individuals across the US are growing in number. No wonder why during the pandemic, boutique fitness franchising is stretching out.
Taking advantage of the digital world, most boutique fitness franchises are now accepting customers through online sessions. This gives convenience to their customers! Most of all, no idle time for the business. You can't go wrong with the highly profitable fitness franchises.
8 Fitness Franchises to Invest in the US
Are you a health-conscious individual looking for an exciting new business venture in boutiques fitness industry? If you want to invest in a profitable franchise opportunity, you might be interested in a fitness franchise or a boutique franchise. What's their difference?
Fitness Franchise
A boutique fitness franchise is a great way to earn revenue while promoting a healthy lifestyle to your community. Boutique Fitness franchises often offer different types of classes, a range of equipment including machines for cardo, as well as weights, personal training, tanning, spa services, and more.
With more and more people becoming concerned about leading a healthy lifestyle, a boutique fitness industry is a lucrative opportunity that can yield lasting profits for years to come. There are many boutique fitness franchise opportunities including buying into Planet Fitness, Crunch Fitness, and Anytime Fitness.
Boutique Franchise
A boutique fitness franchise is a specialty gym that hosts classes or sessions for specific types of workouts. Some boutique gyms focus solely on cardio, while others provide a well-rounded experience aimed at fitness and proper nutrition.
Popular boutique fitness brands include 9Round, Burn Boot Camp, Pure Barre, Orangetheory Fitness, and The Bar Method.
Boutique fitness appeals to a wide range of consumers including busy moms, millennials, and older adults who prefer a more specialized workout.
Fitness Brands Franchises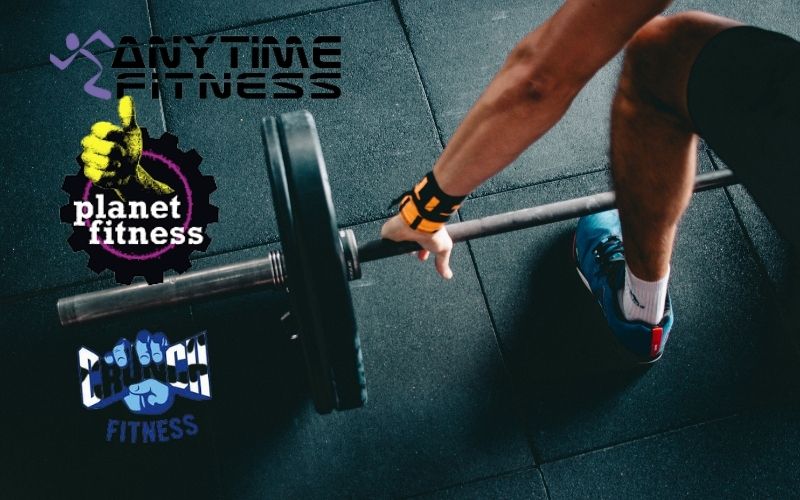 Founded by Michael Grondahl and Marc Grondahl in 1992. Its headquarters is located in Hampton, New Hampshire. Planet Fitness has now 2,039 locations in North America, Canada, Australia, and Latin America.
Planet Fitness Highlights
Currently, Planet Fitness is not accepting new franchisee applications for US expansion. But with the details above, it is evident that Planet Franchise is highly profitable.
Founded by Doug Levine in 1989, Crunch Fitness was first established in New York City. With their tagline "goals are made to be crushed", this fitness club has now more than 300 locations. For starters, they offer a $9.95 per month membership fee.
Franchising Details
Planet Fitness Highlights
The Crunch Fitness franchising team is committed to making their success your success.
Headquartered in Woodbury, Minnesota, Anytime Fitness operates 24/7. This fitness club is open to over 4, 000 locations in 50 countries. Just like any other fitness business, Anytime Fitness is also accessible through its software application (app).
Franchising Details
Anytime Fitness Highlights
Anytime Fitness is dedicated to providing a "low cost, high potential" mission to their franchisees. This brings an opportunity to those potential franchisees who want to start with minimal investment.
Boutique Fitness Brands Franchises
Offers a kickboxing workout, 9Round is known to be the world's best. This business is owned by an IKF Light Middleweight Kickboxing World Champion, "The Cannon", Shannon Hudson, and his wife Heather.
The business was formed with the couple's combined skills in kickboxing, karate, and passion for fitness. It was first opened in July 2008 in Greenville, South Carolina. Just in 4 years' time, the company has expanded to 100 units.
Franchising Details
As the kickbox-fitness club, 9Round provides high standards and quality support to their franchisees.
One-of-a-kind fact about Burn Boot Camp is that this club is mostly for workout-minded women. This fitness club was founded by Devan Kline and Morgan Kline way back in 2012.
From a parking lot of a gymnastics studio, the Burn Boot Camp is now operating in 38 states. Imagine, they just began their franchising in 2015!
Franchising Details
Burn Boot Camp Highlights
This family-owned boutique fitness franchise business aims to have a family-oriented environment for employees, franchisees, and members.
Founded by Carrie Rezabek Dorr in 2001. From the name itself, it is understandable that this type of fitness business is mainly inspired by ballet and yoga.
Pure Barre is known to be the largest and most well-established franchise in North America. They offer both studio classes, and in-home workouts for those always on the go.
Franchising Details
 If you are much interested in ballet or yoga while keeping the body fit, you might want to invest in Pure Barre.
Founded by Ellen Latham in 2010, the first Orangetheory Fitness was opened in Fort Lauderdale, Florida.  This fitness club is more on treadmills, weights, and rowers.
Not only that! Orangetheory Fitness promotes a heart rate-based and a Science and Technology- combined workout.
One of their best platforms is the 30-Day Quit Free Guarantee Program. This is where a member gets back the 100% membership fee if they feel unsatisfied with their first 12 sessions during the first month.
Franchising Details
Orangetheory Fitness Highlights
Orangetheory Fitness business follows their inspiring program of DEI – Diversity, Equity, and Inclusion. This is to penetrate the healthy way of living through their service.
Provides a total body workout, The Bar Method makes ballet classes with a twist of a marathon feel. This business was first opened in 2001 in San Francisco, California by Burr Leonard and Carl Diehl.
In more than two decades now, The Bar Method continues to inspire its members of all ages to enjoy its original version of exercising techniques.
Franchising Details
The Bar Method Highlights
The Bar Method was featured in the most-watched digital media companies like Business Insider, Good Morning America, and BuzzFeed.
Start Your Fitness Franchise Now!
Owning a boutique gym or boutique fitness franchise has several benefits with one of the most popular being semi-absentee franchise business ownership. This means that owners can still pursue another career or obligation while owning a boutique gym or fitness franchise.
Besides the advantages, there are also disadvantages to owning a business franchise. You should know!
Disadvantages are anywhere in all aspects. That is always true. But everything can be done successfully if you maintain your focus on a positive note.
Buying a boutique fitness franchise is a sound investment that can create an exciting new opportunity for your career, as well as bring a healthy environment to your community.
If you would like to work with an experienced franchise consultant to help you begin your journey to fitness franchise ownership, contact me today!