There are a number of home-based franchise opportunities available that will give you the freedom to call every day "casual Friday" and let you water your lawn while pitching your product. Although this may be the perfect opportunity for some people, it's not for everyone. 
To see if it's right for you, imagine this scenario: It's raining outside, and you're late for a meeting. You've lost one of your shoes, and the dog needs to be let out. This is when you think, "Wouldn't it be great to work from home? I could call the client wearing my bathrobe and avoid traffic, long commutes, high gas prices, and dry cleaning bills." 
Is this just a fantasy? No! While thinking about the comfort of having a home-based franchise, let me share with you the benefits and challenges of owning it.
Benefits and Challenges of Owning a Home-based Franchise
As you see fit in owning a franchise in a home-based setup, one of the initial things you need to do is to check the possible risks and challenges. You may have heard some positive outcomes about this franchise, but you want to improve your understanding.
And knowing these five benefits and challenges of home-based franchises can answer your questions and help you decide what is right for you.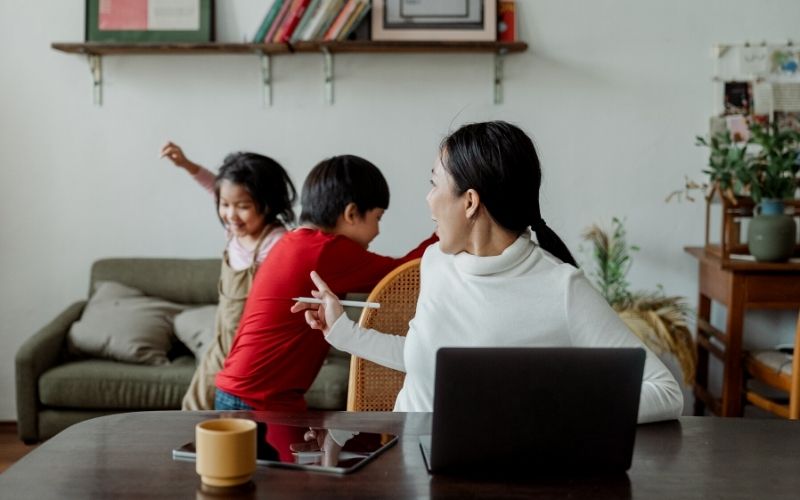 Benefit: It stimulates motivation
Challenge: A home-based franchise can cause distractions
What motivates you? If you get up in the morning raring to go and keep a list of your goals over your desk, you can probably succeed in a home-based franchise. If your main motivation for going to work is so that you don't get fired, you're probably the wrong type of person to work from home.
Owning your own home-based franchise business can be a great way to make a living. But you need to be productive when you are at home. If you're easily distracted by activities happening around you – kids, spouse, the mail, home projects waiting to be started – you won't be putting in quality time from a home workplace setting.
You may miss the camaraderie of co-workers and the feeling of being part of a team. As much as you like to be autonomous, you may be the type of person who needs a supervisor lurking nearby to do your best work.
Of course, not all home-based franchises are about isolation. Some franchises allow you to office from home but require you to be involved in the community and spend a great deal of time making face-to-face calls on clients. In other business models, you will be managing a team of technicians who call on customers.
When you own your own home-based business, you are in control – of the hours you work but also of the level of income you will earn. Generally speaking, the harder you work the more you will make – something that cannot be said of corporate America!
Benefit: To manage a business at home makes you organized
Challenge: A home-based franchise can cause to feel a failure if a goal is not met
The successful home-based franchisee will usually be someone very organized. Since you'll most likely be in charge of answering your phones and doing your own filing, the more organized you are, the easier it will be for you to make your home your workplace. Besides keeping up with the day-to-day task of appointment setting, billing, accounts payable, etc., you will also need to set your own goals and then work to make those goals a reality.
Let's say you have a goal of reaching 100 clients by the end of the first six months. How do you go about achieving this goal? Do you advertise on the radio? Do you make cold calls by phone? Do you visit potential clients in person?
As the business owner, your success is very personal but so is any failure to achieve your goals. You have to be able to make and plan and then follow through. If your plan isn't succeeding, you have to be able to switch to a new plan. This takes both organization and motivation.
Benefit: You are your own boss.
Challenge: You will be in charge of all tasks
Remember that being your own boss means that you are also your own employee. In a home-based franchise, you are usually everything from president to file clerk. You pay the bills, place the orders, solve customers' problems, and become the marketing expert.
If your computer isn't working, you have to fix it or contact an outside source to do it for you. If you quote a customer the wrong price, you are the one who suffers the shortfall.
You'll find the general business experience very useful to a home-based business. Did you start your career in the proverbial mailroom? Great, because you'll be in charge of that, too!
If you like variety, home-based franchising may suit you to a tee but if there are some jobs you just can't stand, you'll either have to hire an extra employee to do that job or stick with another type of business. Just how many employees can you fit into your 10 X 10 foot home office? Think about it.
Benefit: Save more time and money in a home-based franchise business.
Challenge: You will work independently
Home base franchise works well for several franchising models, particularly those that require few if any internal employees and where your clients don't come to you. While there are some challenges to working from home, there are also some benefits.
The most obvious ones have been mentioned – you avoid commuting in rush hour traffic, you won't have a business wardrobe to maintain, and you can multitask by letting in the plumber while you update your call log.
The other benefit is cost. If you don't need to spend money to maintain a storefront retail space or even a space in a building, your savings will be enormous. Many franchises will allow you to set up your business at home and then transition to an outside space as your business grows.
At times, working independently can make you feel bored and alone. But, for those working part-time or for someone who wants to start a side business while either working outside the home or while raising a family, a home-based franchise can be ideal. Many have been drawn to this type of business model because it allows you to grow at your own pace while keeping your expenses manageable.
The franchise fees for home-based businesses is also often less than for other types of franchises. When you add that to your savings from not needing to rent a space or extra employees, you can see the financial advantages of owning a home-based business.
Benefit: You can work in the comfort of your home
Challenge: What if you realize that it doesn't fit your style
No question from home workspace setup can allow you freedom, independence, and great cost savings over maintaining your business in a building space. But it won't work for you if you don't work.
If the distractions of being home are too tempting or the lack of interaction with others makes you feel isolated, you won't be able to focus on your new business. And your business won't be making you the nice income that you've dreamed about.
One independent business consultant we know espouses the BIC theory, or "Butt in Chair." During working hours, he makes sure he's in his office, in his chair, making the calls, and handling the necessary paperwork. He sets his goal high and then works hard to achieve them.
He puts in a full workday and has eliminated distractions as much as possible. He can focus totally on his business and follows the program and guidelines of his business. He doesn't try to change the business and he doesn't waste time trying to dream up other ways of doing the mundane tasks. He is wildly successful.
Before you commit to a home-based franchise business, do a thorough self-evaluation of your work style to see if a home setup will be right for you. If you can set goals and follow through with them and you're good at self-management and very organized, a home-based franchise could be an ideal situation.
If, however, you require outside stimulation to feel productive and are easily distracted from a boring task, you would probably languish in working at home situation. Consider your strengths, skills, and business style before beginning your search for a franchise opportunity and you will have an easier time finding just the right business to buy.
Below are some of the types of home-based franchises.
Types of Home-Based Franchise Businesses
Home-based setup usually provide cost savings to franchise owners because they do not require a brick and mortar structure, large inventory, or an extensive staff. Most of these are:
Education Franchise
There are types of franchises where you go into schools or community centers to teach a variety of classes. The focus may be on computer technology or art or advanced math – usually something that is not covered in the usual school curriculum. As the business owner, you call on local school district officials to set up the classes and you have full-time or part-time teachers on staff who teach the classes.
Services Franchise
Many service franchises can be run in a home-based setup. There are numerous businesses in this sector, providing such as follows:
Your customers may be residential or business or both. You will often have technicians on staff that handle the work while you take care of marketing, billing, and appointment setting.
Business Consulting
The role of a consultant adapts particularly well to the home-based business model. You can communicate with your clients via phone and computer and can rent a space for face-to-face meetings on an as-needed basis.
Retail Franchise
There are also retail businesses, selling to both consumers and businesses, that operate out of a home setup. The owner may provide a product from a kiosk or cart or sell items by mail or over the internet. Inventory is generally limited or is stored in a warehouse.
Weighing some of those mentioned benefits and challenges helps you decide whether to push your plan of owning a franchise in a home workplace setting or not. This is just the start of your franchise research and knowing the initial franchise investment is another part. Because in finding your perfect home-based franchise business, there are many factors you need to consider. 
If you want expert help in determining the right opportunity, speak with a franchise consultant who can guide you through the entire investing process.