There are a number of home-based franchises available that will give you the freedom to call every day "casual Friday" and let you water your lawn while pitching your product. Although this may be the perfect opportunity for some people, it's not for everyone. 
To see if it's right for you, imagine this scenario: It's raining outside, and you're late for a meeting. You've lost one of your shoes, and the dog needs to be let out. This is when you think, "Wouldn't it be great to work from home? I could call the client wearing my bathrobe and avoid traffic, long commutes, high gas prices, and dry cleaning bills." 
Is this just a fantasy? No! While thinking about the comfort of having a home-based franchise, let me share with you the benefits and challenges of owning it.
5 Benefits of Home-Based Franchises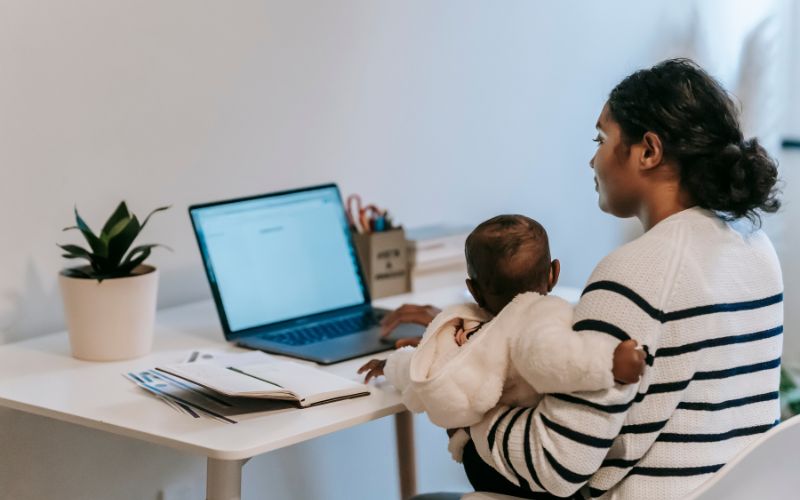 1. No expensive overhead costs
Home-based franchises often require less capital to get started than traditional businesses, making them an attractive choice for entrepreneurs on a budget. You can avoid the expensive overhead costs of setting up a shop in a physical location and instead focus your resources on acquiring inventory and marketing materials.
Overheads like rent, electricity bills, internet, and other expenses associated with running an office can be a huge cost saver for franchisees.
Furthermore, the cost savings don't end there. By running a home-based franchise, you can save on fuel costs as you won't need to commute to a physical office or shop location.
This is particularly beneficial if you have multiple customers or suppliers located within driving distance of your home. Not only will you save money on gas and maintenance costs, but you'll also have more time to focus on running your business.
2. Flexible hours
What franchise owner would turn down a business model that allows for a high degree of flexibility with their hours?! As the saying goes, time is money, and a home-based franchise certainly helps maximize both.
With such an approach, franchise owners have the freedom to spend more time with family and friends, yet still, make important progress on their own path to self-employment.
This can be especially beneficial if you have children or other family responsibilities that require a great deal of your attention. With home-based franchises, you can work around your schedule and tend to those obligations in between periods of focused work.
Whether you choose to rise with the sun or set your alarm for midnight, you are in complete control of how much time and effort you invest in your franchise – and still have plenty of time for fun.
Plus, when it comes to home-based franchises there's no need for an office so fitting work into an already busy life is worry-free and easy.
3. Easy to explore a franchise that suits your budget
Setting up a home-based franchise business has never been more affordable, and franchises are no exception. Whether you need a few pieces of equipment or an entire office, there are plenty of budget-friendly options available to fit your needs.
Don't believe me? Just look around and you'll see a number of franchises offering everything from daycare services to janitorial services that you can set up in the comfort of your own home – with just the right investment levels for any budding entrepreneur's budget.
So don't wait any longer; get started on the road to success today!
4. Tax benefits
Starting a business feasible franchising offers plenty of advantages – tax benefits being just one of them. Many franchises are home-based, making them great options for entrepreneurs who don't want to be tied to an office space all day.
These franchise businesses offer unique tax benefits too, like the ability to write off part of your home's cost as a business expense and deduct part of your rent as a home office deduction. Perfect for the savvy businessman who's looking for ways to reduce his taxable income!
5. Enjoy working from home
Working in your own home-based franchise may just be the best of both worlds. You can put your entrepreneurial skills to use and make a living, while still enjoying all the great benefits that come with staying in the comforts of your own home, such as more family time.
No need to worry about traffic or rush hour – business life can be as low-key or as high-energy as you prefer!
Especially in today's climate of constant change and uncertainty, franchises are becoming increasingly popular across multiple industries, giving you the perfect platform to jumpstart a successful career without having to compromise on what matters most: family time.
5 Challenges of Owning a Home-Based Franchise
1. Isolation
Working from home certainly has its challenges. While there are many advantages – such as having more flexibility and control over the environment – it can also be isolating and, on those days when motivation is particularly elusive, downright difficult. Being surrounded by other people usually provides us with a kind of positive peer pressure to stay on track.
When we're alone, however, that challenge can become more difficult. What's unique about working from home is that it requires us to take charge of our productivity as well as our commitments. Just like any challenge in life, this one too will inspire growth if we put in the mindful effort!
2. Limited space
Managing home-based businesses is a challenge that requires creative problem-solving. Your biggest challenge may very well come when it comes to storing inventory and materials – a limited workspace can make this quite tricky.
You'll need to get creative with storage solutions; think outside the box, or in this case, around the furniture. It may seem daunting but in many cases you can transform limited space into an efficiently organized system, ensuring your business runs smoothly.
3. Social media presence
Home-based businesses nowadays require a strong, creative approach to staying alive in the market. Staying afloat requires not only hard work and perseverance but also having the wherewithal to move your brand to different marketing channels – namely, generating engagement through social media channels.
It's a challenge to tackle this challenge without falling short, so you may need an outside perspective or additional help if at all possible. With an open mind and creativity, you can develop the presence needed to keep your business ascending.
This can be time-consuming, but it's essential for success.
4. Technology
Want to stay ahead of the competition in your home-based business? The challenge is definitely on to keep up with all the incredible technological advancements and modern tools out there.
But it's worth it—with a little bit of savvy, you can unlock incredible efficiencies, optimize your workload, and make running a home-based business a breeze. So challenge yourself to get with the times and make sure you're utilizing the latest technologies.
No matter your tech acumen level – novice or pro – there are resources available to help you stay on the leading edge. After all, it's not about finding the flashiest new tool every week; it's about understanding your business needs and leveraging technology to streamline operations in order to amplify profits.
5. Competition
In home-based franchise settings, there's an ever-present challenge of staying competitive in the face of competition. Home-run franchises have the challenge of competing with larger, more established businesses – they must prove their worth and show creativity to break into the marketplace.
As a result, entrepreneurs must think big and then act big as well in order to truly keep up with the competition in a home-based franchise setting. This challenge can be daunting but taking advantage of every opportunity and staying true to your mission can help you stay afloat in what can sometimes feel like uncharted waters.
Before you make the leap into home-based franchising, it's important to do your research and weigh the potential benefits and challenges. If you need help in determining the right opportunity, below are some of the types of home-based franchises.
Types of Home-Based Franchise Businesses
Home-based setups usually provide cost savings to franchise owners because they do not require a brick-and-mortar structure, large inventory, or extensive staff. Most of these are:
Education Franchise
There are types of franchises where you go into schools or community centers to teach a variety of classes. The focus may be on computer technology or art or advanced math – usually something that is not covered in the usual school curriculum.
As the business owner, you call on local school district officials to set up the classes and you have full-time or part-time teachers on staff who teach the classes.
Services Franchise
Owning a services franchise is a great opportunity for entrepreneurs. If you have the capital and the skill necessary for running a business, then this type of franchise can give you enough opportunities to make your dreams come true.
It offers endless opportunities for managing a successful business domain in less time and investment without compromising on quality control.
With the support of experts providing pre-established procedures and uniform pricing, generating profits from your initial investment becomes more achievable.
There are numerous businesses in this sector, providing such as follows:
Your customers may be residential or business or both. You will often have technicians on staff that handle the work while you take care of marketing, billing, and appointment setting.
Business Consulting Franchise
Business consulting firms may have home-based franchises with low startup costs. The home business owner will typically have a staff of consultants to provide services around areas such as technology, software development, marketing, and more. As the home-based franchise owner, you are responsible for overseeing the team and managing customer relationships.
Personal Fitness Training Franchise
A personal fitness training franchise is perhaps one of the most exciting and rewarding home-based franchise business opportunities available today. If you're looking for a challenge, and the chance to help others achieve their fitness goals, then owning your own franchise may be just what you're looking for.
With this type of franchise, you can set up your proprietary business in the comfort of your own home, with all the necessary resources at your fingertips.
You'll have everything from qualified trainers to expert advice and more, providing your clients with an unbeatable experience when it comes to achieving their highest physical potential. What better way to challenge yourself than by launching your own successful fitness franchise?
There are also retail businesses, selling to both consumers and businesses, that operates out of a home setup. The owner may provide a product from a kiosk or cart or sell items by mail or over the internet. Inventory is generally limited or stored in a warehouse.
Owning home-based franchises can be a great way to start your own business and achieve financial independence. With the right research, you can find the perfect home-based franchise for your needs that will provide cost savings and other benefits such as more family time.
However, it is important to understand the potential challenges so that you are fully prepared when starting this type of venture.
Consider researching education franchises if additional qualifications or licensing requirements are needed,

create a strong social media presence for marketing purposes,

utilize limited space creatively,

and make sure your home-based business has a unique selling proposition (USP) in order to stand out from competitors.
Taking all these steps into consideration should help ensure success with owning home-based franchises.
If you want expert help in determining the right opportunity, speak with a franchise consultant who can guide you through the entire investing process.