The increasing popularity of pizza over the years has led to pizza wars. This head-to-head battle of Domino's vs Pizza Hut will confirm who has the best crust, toppings, and other winning criteria.
Since these two pizza chains ruled the market for years, thus making them the most-discussed pizza battle online. Along with their popularity is that they have grown into the world's largest pizza company:
Actually, they sell similar types of pizzas. But the question is – "Which pizza is better?" Well, look no further for the answer. Read on this blog to know which pizza chain reigns!
Dominos Vs. Pizza Hut - Why?
These are the two largest pizza chains in the world and they both started their business in the United States. Clearly, these two brands have an age-old rivalry between them. As a matter of fact, both have launched pan pizza to many countries worldwide as well.
Also, as I have observed, pizza is always part of the menu whenever I am invited to a birthday party or a house party. I feel like the majority of us are traditioned to order pizza on every occasion. This is the real evidence that pizza is the favorite global food of all time. So which one makes the finest pizza, Domino's or Pizza Hut?
I can say that both Pizza Hut and Domino's pizzas are tasty, mouth-watering, and relatively inexpensive. They actually sell almost similar types of pizzas, too.
The question is, which pizza is better?
The long debate about Domino's vs. Pizza Hut has not been resolved yet. To give you an idea, in the year 2016, these two chains sold a whopping 69% of all world pizzas. Because of that, many franchisees have opened units around the world because of their high demands in the market as people generally order pizza for their meals.
If you take a look, you probably have many of both pizza chains in your neighborhood. You need to choose a side or just choose to eat crunchy tacos instead.
As a pizza judge, one needs to be completely neutral at first. There is nothing and no one that can cloud your judgment. But, there are some rules and regulations that we need to follow in order to fairly compare the two largest pizza brands and come up with a decision.
Well, you can easily tell the difference between these two pizza giants. Though, they both offer exciting deals to their customers in order to grab their attention and sell their pizzas.
You may ask: "Which one is tastier?" Now, this is a very tricky question but let us investigate further to know the answer. First, let us discuss Domino's pizza.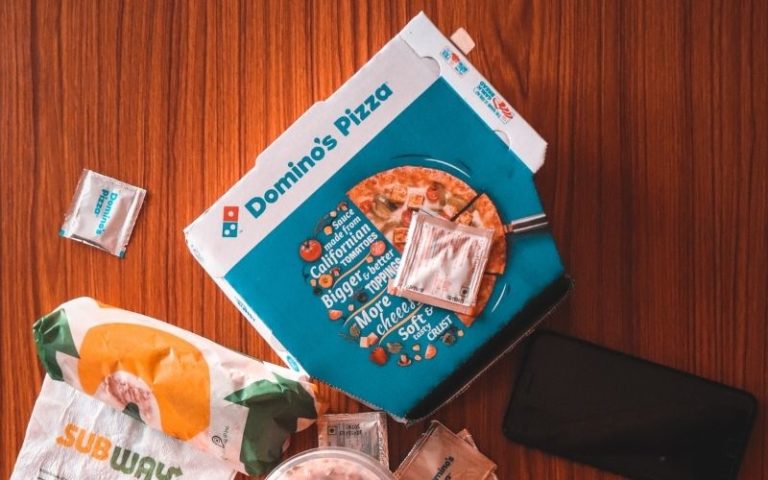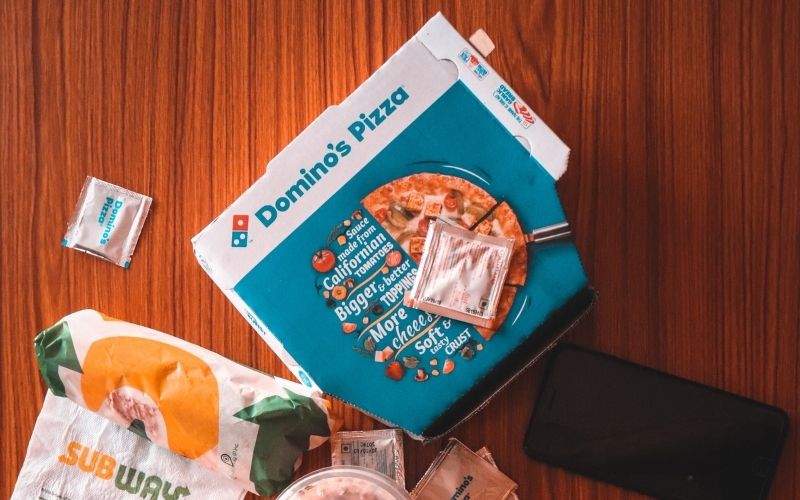 Pizza from Domino's is loved by people for its taste such as the appetizing garlic bread and cheese. In addition to that, Domino's garlic bread is a hot favorite for many people.
If you are judging only the overall taste of the pizza, then Domino's will surely win the contest.
Also, their cheese burst pizza is very popular. The cheesiness of the pizza is pure heaven. However, this cheese overload is pretty unhealthy. On the other hand, I tend to eat something unhealthy because it tastes so good. And I never feel any guilt about it.
It is obvious that the overall taste and the texture of Domino's pizza are highly rated. But many people are not fans of the pizza crust Domino's has. People who eat pizza regularly think their crust is hard and dry.
Dominos Toppings
Domino's pizza toppings are loaded with lots of options to choose from. For meat lovers, they can pick from:
On top of that, Domino's is also a vegetarian-friendly pizza chain as they offer non-meat toppings such as:
Domino's Crust
For me, the crust in Domino's is more garlicky than any other pizza dough out there. In line with this, they offer four types of crusts. These are the hand-tossed, handmade pan crust, crunchy thin crust, Brooklyn style, and gluten-free crust for those having a gluten-free diet.
The Signature Pizza Sauce
The appetizing taste of Domino's pizza sauce comes in three different flavors. We have the:
Dominos Pizza Sizes
Domino's Pizza offers the common pizza sizes: small, medium, and large. These are defined as solo (7inches), regular (10 inches), and family size (14 inches). Before, I usually bought medium pizza because it was enough for a family of three.
Now that we have gathered enough details about Domino's pizza, let us now jump to pizza hut's ingredients.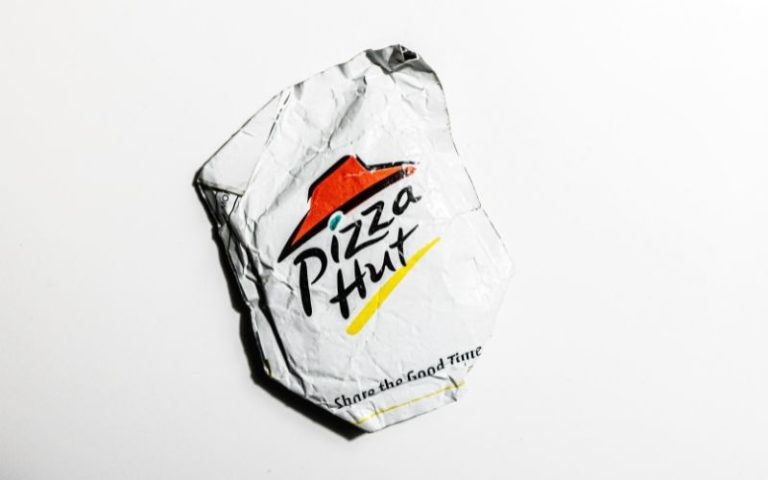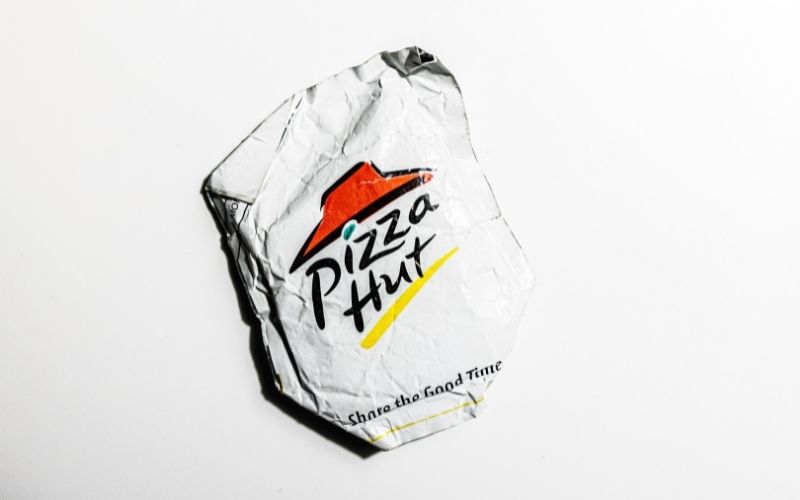 I admit I see a lot of people brought pizza home from Pizza Hut after a long day of work. Their cheesy pizza, cheesy garlic bread, and cheesy bites really taste great.
Actually, many people believe that Pizza Hut ingredients are a more "authentic" choice which is similar to Italian dishes. The pizza's texture is soft and delicious.
Furthermore, the delivery speed and the quality of Pizza Hut's ingredients are far better than Domino's. Pizza Hut isn't always great though. Critics say that they generally serve smaller portions of food than Domino's. Apart from this, they also offer fewer types of pizza than Domino's.
However, the price of Domino's pizza is a little bit higher than the price of Pizza Hut's pizza. Take a closer look at Pizza Hut's version of pizzas.
Pizza Hut Toppings
Pizza Hut's toppings are somewhat similar to Domino's but they do have meatballs, grilled chicken, toasted bacon, and choices of veggies like jalapenos, olives, and onions. Mostly, vegetarians love the Veggie Lovers pizza flavor topped with crunchy bell peppers, mushrooms, chunky onions, and juicy pineapples with lots of mozzarella cheese.
Pizza Hut Crust
There are four Pizza Hut crusts that you can pick if you order their pizza with the stuffed crust option of course. These are:
With a twist, pizza hut's crust comes in four flavors: garlic buttery blend, hut favorite, toasted parmesan, or if you don't like any of these, you can just choose the no crust flavor. On the other side, take note that both Domino's and Pizza Hut have evenly spaced horizontal lines on their crusts. And both of them offer deep pan pies.
Pizza Hut's Signature Sauce
Pizza sauce always makes a huge difference in every pizza taste. Talking about Pizza Hut vs Domino's pizza sauce, some prefer Pizza Hut. Imagine some of their pizza sauces below:
The marinara sauce for me has a lot of Italian pizza taste, and I also thought of eating pasta with this sauce.
Pizza Sizes
Same as Domino's, Pizza Hut also has three best-seller pizza sizes. They have small-sized pizzas with about 4-6 slices (8inches), a medium that has 6-8 slices (12 inches), and large sizes (14 inches).
Why do people prefer to order from Domino's and Pizza Hut?
Aside from thinking of Papa John's and Taco Bell when you crave pizza, Domino's and Pizza Hut are masters of making tasty high-quality pizzas on a grand scale. There are at least 10 reasons why people prefer to order from these pizza chains.
At this stage, you might be in a confusion already on what pizza company you are going to love more or to bring to a higher level – which one are you going to invest in? No worries because I have my recommendation for you where you can consider which would be the best to choose.
Dominos vs Pizza Hut - Which Pizza is Better?
After considering all of the given information above, you might now have your chosen pizza franchise in mind. Just remember, the better pizza still depends on the people's own choices.
Yet, we have to select which of these two pizza makers is better. We know that it is hard to choose but we need to select the best of them. Now let's get back to the main point, Domino's vs. Pizza Hut – which is better?
Personally, I prefer Domino's pizza to Pizza Hut pizza because of the following reasons:
Even so, the rivalry between the two brands will continue indefinitely. Unintentionally, this also creates conflict between friends at times because of the fact that there are two separate groups of people: one who loves Domino's and the other who loves Pizza Hut. But for me, I would still choose Domino's since it gives me extra cheese and tasty toppings in every chew.
Which Is Best to Franchise - Dominos or Pizza Hut
You might first ask: Is a pizza chain really one of the best to invest in a business? For me, the answer is yes, because the leading trend in the franchising world is always the food industry.
So now, before sealing up your decision on whether you choose Pizza Hut vs Domino's, review first the pros and cons of these two pizza companies. It is really important for you to know not just the product itself but also the technicalities of the business.
In that way, it will give you a market overview on how to establish your business and create a structure to make it grow. The information below will help you choose which one is the better pizza business for you.
Domino's Pizza Franchise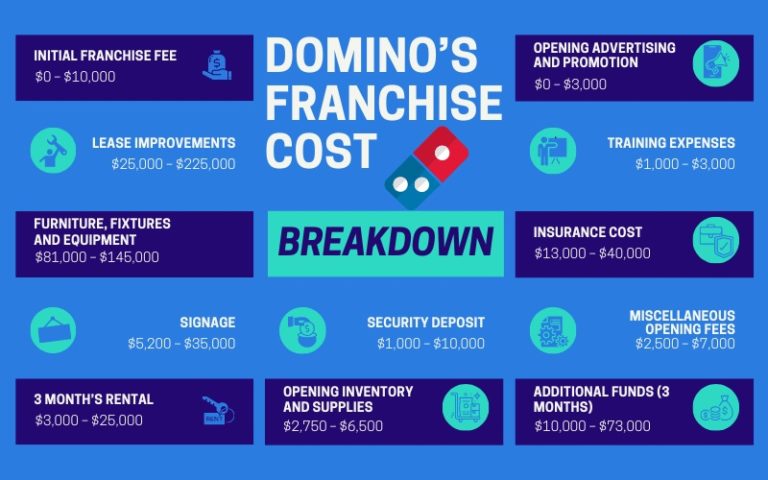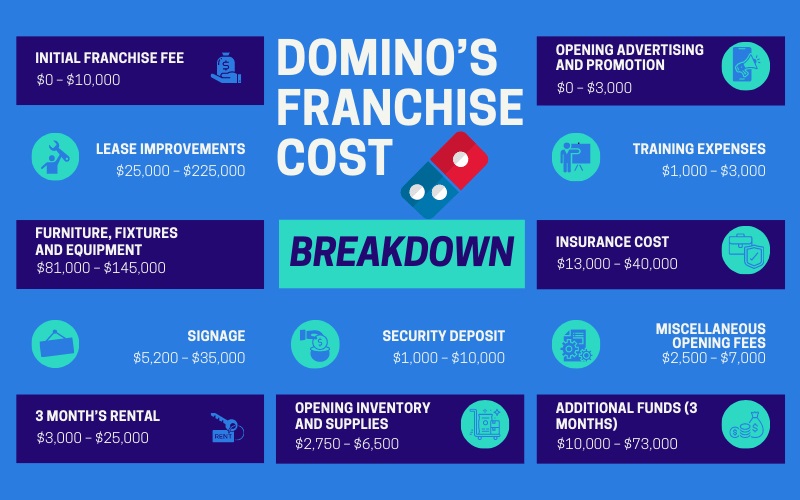 If you have never worked at Domino's, the franchise fee is always $25,000. Many Domino's franchisees have worked as general managers at a Domino's location. These helped them to manage their own branch perfectly.
The good news is, if you have worked at Domino's, the franchise fee can be as low as $0. Domino's offers a comprehensive training program to manage the store and other operational systems.
The training also consists of human resources, finance, and marketing modules as well. Domino's also offers five days of franchise development courses and four days of pizza preparation school. With these, Domino's has invested millions in an efficient online ordering platform to guide its franchisees.
Currently, Domino's has acquired the title of being the largest pizza chain in the world because of its number of restaurants.
Pizza Hut Franchise
If you can afford to invest between $1.3-$3 million for a Pizza Hut franchise, then you can open a Pizza Hut franchise within a year. Excitingly, you can open three restaurants in three years.
How does the initial franchise application process work? Check it out:
The franchisor provides support in marketing, business coaching, group buying, and development. They also provide franchisees with performance improvement programs and ongoing training.
On the contrary, Pizza Hut does not provide in-house financing options. However, they have a list of preferred banks and financing institutions.
Overall in our Pizza Hut vs Domino's competition, Domino's pizza is number one on the list. Plus, Domino's branches are scattered all over the world. For sure, you will always feel at home when you're in Domino's while enjoying every bite of their pizza. But of course, we always have Pizza Hut, too can also satisfy our pizza cravings and is known worldwide as well.
Bonus read: McDonald's vs Burger King: Which One is Better?
The bottom line is, that these two largest pizza chains make great pizzas and that is also best to invest in a franchise. My recommendation is just an option that you can consider but the final decision is still yours.
But the best way around is to talk with a franchise coach who can guide you to find the right franchise for you.