Are you thinking about diving into the world of owning coffee shop franchises? With coffee's growing popularity and the inviting atmosphere of cafes, it's no wonder that coffee shop franchise opportunities are catching the attention of aspiring entrepreneurs.
Before we dive headfirst into the world of Coffee Shop Franchise units, it's essential to comprehend their significance. Franchise units are individual outlets or branches of a coffee shop that operate under the umbrella of a parent company.
In this post, our goal is to explore why considering a coffee shop business could be a smart move. We'll also provide an overview of seven well-known coffee shop franchise opportunities, each with its unique business approach.
As you continue reading, you'll gain the knowledge you need to decide whether investing in a coffee franchise aligns with your dreams and financial goals.
Why You Should Consider a Coffee Shop Franchise
The coffee franchise industry in the United States is thriving, with coffee shops being incredibly popular. For instance, in 2021, Starbucks was second to McDonald's in terms of brand value.
Now, here's something cool from a 2022 Statista survey that shines a light on how much Americans are into their coffee.
Get this: a whopping 31% of folks in the U.S. dish out anywhere from 11 to 20 bucks on coffee every single month. But wait, there's more – 22.8% of the bunch shell out the same amount to hit up coffee shops every month.
And you know what? They're not just spending big bucks, they're also pretty loyal. These folks are snagging coffee from chains and local cafes alike, and they're making it a routine, anywhere from one to three times a week.
And here's the icing on the cake to show just how alive and kicking the coffee franchise scene is: there are coffee shops all over the place in the U.S. In fact, by 2022, a whopping 38,411 of these coffee havens pepper the nation. And guess what? Over 12,000 of these locations are operated as franchises.
So, when you bring all these pieces together, it's clear as day – the idea of investing in a coffee shop business in the United States is seriously appealing.
The numbers shout loud and clear about the strong passion people have for coffee and the whole café vibe. It's like a fertile ground just waiting for savvy entrepreneurs to jump in, offering a chance for a really satisfying and potentially super successful venture.
However, before delving into this world of aromatic brews and cozy ambiances, it's essential to understand the nitty-gritty of royalty fees in coffee shop franchises. Royalty fees are a fundamental aspect of the coffee shop franchise model. These royalty fees are payments made by the business owner to the franchisor, typically on a regular basis.
3 Types of Coffee Shop Franchise Business Models
Let's dive into the world of coffee shop franchises, where you have a bunch of exciting options that bring their own unique flavor to the coffee shop experience. Here's a closer look at three popular coffee shop franchise styles:
1. Coffee Shop or Coffee Cafe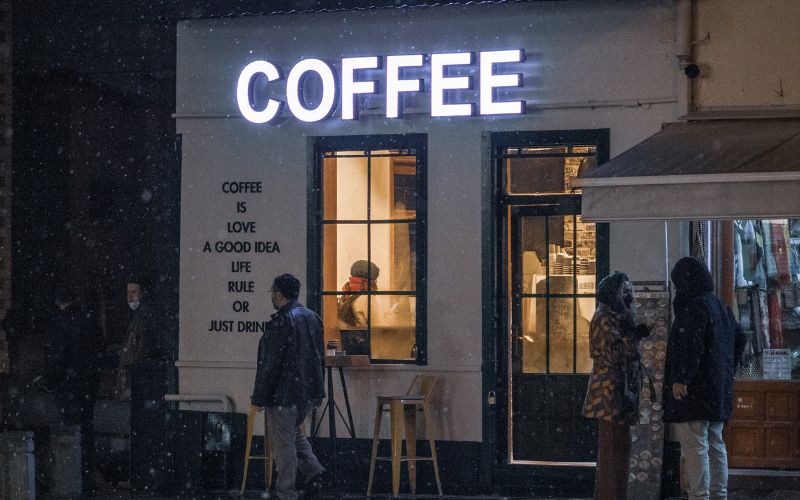 This style is all about creating a cozy and inviting space where folks can really relish their coffee. Think of it as a welcoming environment designed for relaxation and chatting. You'll find a variety of coffee choices, from classic espresso-based drinks to regular drip coffee and special creations.
On top of coffee, these cafes often offer a yummy selection of treats like pastries, sandwiches, salads, and desserts. The main goal is to craft an atmosphere where people can connect, work, or even have meetings while enjoying their coffee time.
Estimated Costs: Setting up a coffee cafe franchise can differ based on factors like location, size, and what equipment you need. The ballpark figure for getting started falls roughly between $100,000 to $500,000. This includes things like..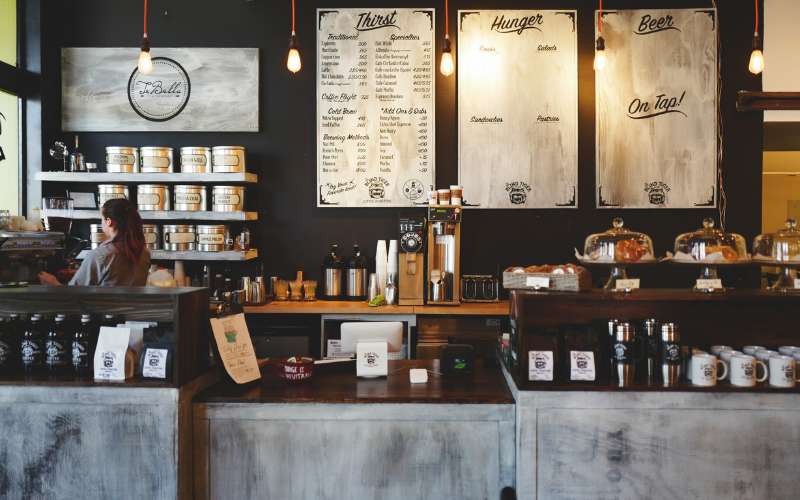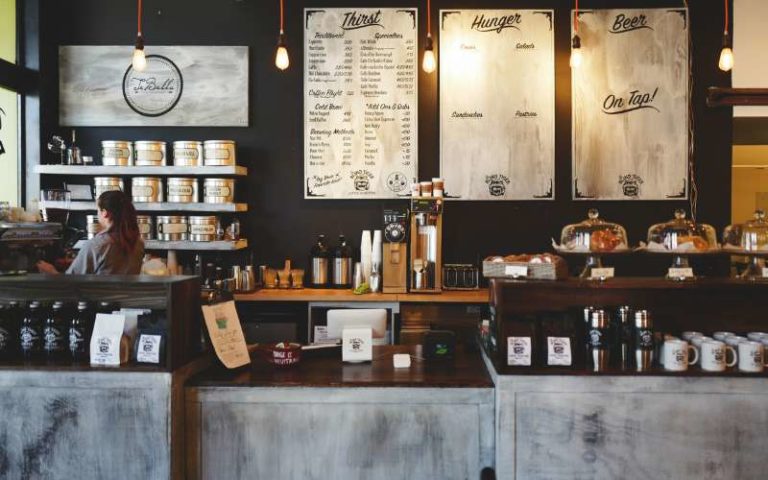 2. Coffeehouse or Coffee Bar
Coffeehouses or coffee bars are trendy and modern spots that offer a diverse selection of high-quality coffee beverages. They specialize in different types of coffee such as espresso-based drinks, pour-overs, cold brews, and flavored coffees.
Coffeehouses not only serve coffee, but also offer light snacks, pastries, and desserts to go with it. For those who drink coffee and want a relaxed ambiance and comfortable seating such as communal tables and cozy corners, this is the right place to hang out.
Estimated Costs: The amount of money needed to start a coffeehouse franchise can vary from $200,000 to $600,000, depending on different factors such as the size and location of the coffee bean establishment and some expenses that may be involved like royalty fees and other fees.
3. Drive-Thru, Kiosk, or Grab-and-Go Concept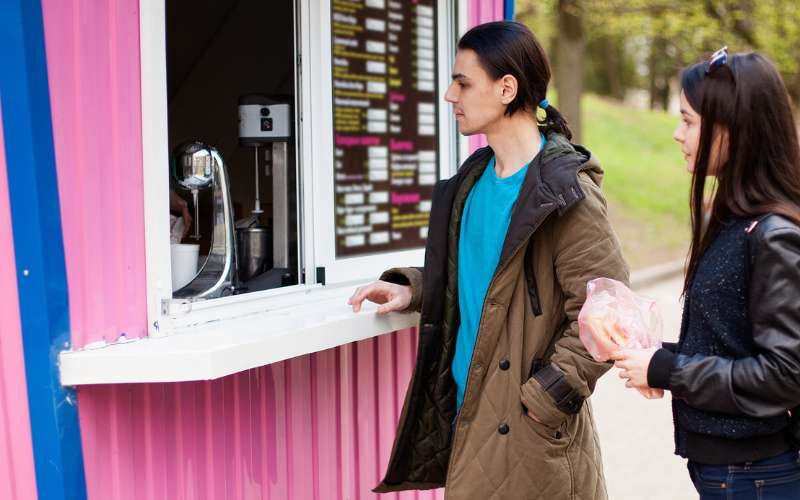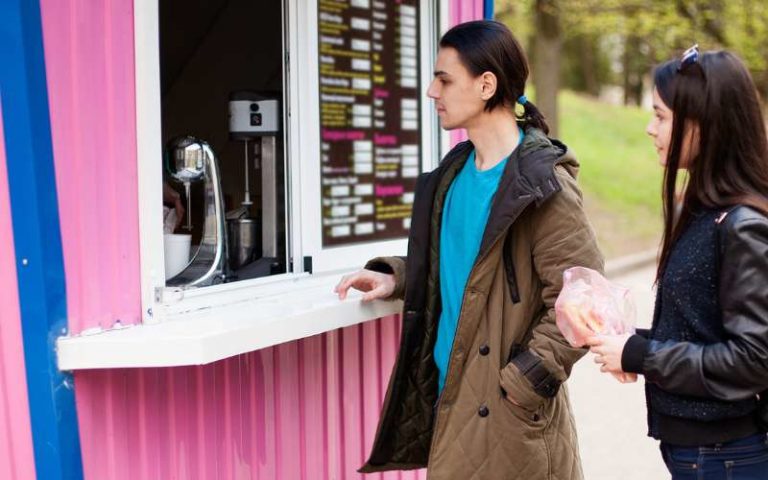 This type of business targets customers who want fast and easy access to coffee. They usually have drive-thru coffee shops, grab-and-go outlets, or coffee kiosks in heavily trafficked areas like malls, airports, and busy streets.
The main goal is to provide quick and efficient service, so customers can easily grab their coffee without needing to sit down. These businesses usually have simple coffee menus and limited food options, with a focus on convenience and accessibility.
Estimated Costs: To start a franchise for a drive-thru, grab-and-go, or kiosk coffee store, you will need to invest between $50,000 and $250,000, depending on various factors such as the size, location, royalty fees, and equipment requirements of the store.
7 Affordable and Profitable Coffee Shop Franchises in the US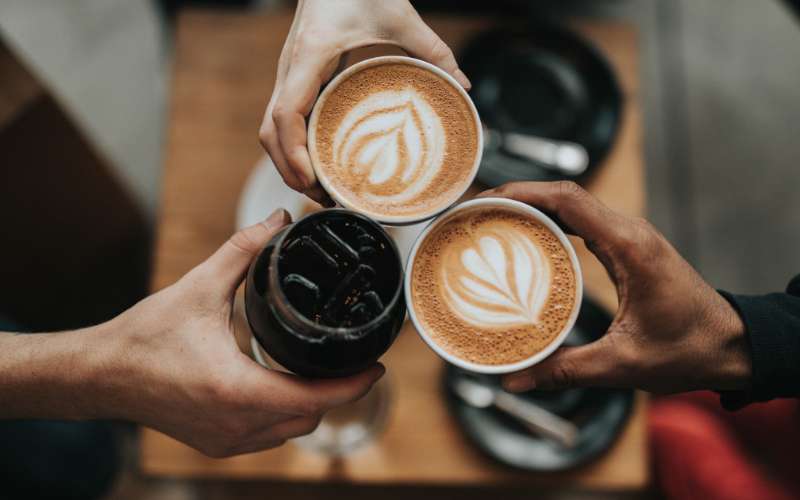 Here is a list of affordable coffee franchises that were recognized for their success in the franchise industry and featured on the Entrepreneur's Franchise 500 for 2022. I've provided a brief overview of each of the coffee franchise opportunities below.
Dunkin' Donuts
Dunkin' is a highly recognizable and successful coffee shop business that has become a staple for coffee and donut enthusiasts.
With its ever-popular iced coffee, freshly baked doughnuts, bagels, and breakfast sandwiches, Dunkin' has solidified its place in the breakfast and coffee industry. The strength of Dunkin' lies not only in its tasty offerings but also in its brand presence and proven business model.
Dunkin' Donuts franchise units have built a loyal customer base, ensuring consistent business growth across its various locations. It's no surprise that Dunkin' remains a fan favorite among coffee and breakfast lovers. 
When it comes to support and resources, Dunkin' Donuts provides to franchisees in exchange for royalty fees, including marketing assistance, training programs, and access to a trusted brand.
Scooter's Coffee
Scooter's Coffee is a popular coffee franchise that prides itself on providing high-quality coffee and specialty drinks to its customers.
While their menu includes a variety of delicious options, such as baked goods, smoothies, and breakfast items, it's their focus on exceptional coffee that sets them apart from other drive-thru coffee chains.
The atmosphere at Scooter's Coffee is also unique and inviting, with many locations offering outdoor seating options for customers to enjoy while they sip on their favorite drink. It's clear that Scooter's Coffee is a top choice for coffee enthusiasts looking for a quality coffee experience.
Also, this is a great franchise opportunity for those potential franchisees who are seeking to own coffee kiosks or the mobile coffee shop option.
The Human Bean
The Human Bean is a coffee franchise that is known for its dedication to using sustainable and organic coffee beans. They offer a wide range of hot and cold coffee beverages, smoothies, as well as freshly baked goods.
What sets The Human Bean apart is its strong emphasis on customer service and community involvement. The staff is friendly and welcoming, and each order is made with care and attention to detail.
The Human Coffee Beanery franchise owners aim to create a warm and inviting atmosphere in their stores and are actively involved in community outreach programs. With their environmentally friendly practices and passion for quality coffee, The Human Bean is a must-visit for coffee lovers everywhere.
Biggby Coffee
Biggby Coffee is a popular coffee shop business that has gained a loyal following for its extensive menu of specialty coffee drinks and delicious food options.
Based in Michigan, this franchise is known for its high-quality coffee beans and expertly crafted espresso drinks, such as lattes, cappuccinos, and flavored coffees. Whether you're in the mood for a sweet and creamy latte or a bold and robust espresso shot, Biggby Coffee has something for everyone.
In addition to their impressive drink menu, this franchise also offers a variety of tasty food options, including sandwiches, wraps, and bakery items. So if you're looking for a coffee shop that does it all, be sure to check out your local Biggby Coffee location.
PJ's Coffee of New Orleans
PJ's Coffee of New Orleans is a popular coffee shop that has a reputation for sourcing and roasting only the highest-quality coffee beans. Their devotion to providing customers with exceptional coffee is evident in the range of beverages they offer on their menu, including cold brews and flavored coffees.
Additionally, PJ's Coffee customers are treated to a selection of delicious pastries, sandwiches, and breakfast items.
The cozy New Orleans-inspired ambiance of their establishments further adds to the overall experience of visiting PJ's Coffee, creating a warm and inviting atmosphere that is perfect for taking a break from the hustle and bustle of daily life.
Ziggi's Coffee
Ziggi's Coffee has quickly become a popular stop for coffee lovers across the country. This drive-thru and sit-down coffee shop franchise prides itself on providing a personalized and friendly experience for its customers.
From the moment you pull up to the drive-thru, you are greeted with a smile and a warm welcome. The staff takes the time to get to know their customers and ensure that their drink orders are made just the way they like it.
Whether you prefer a classic latte, a refreshing smoothie, or a bold cup of drip coffee, Ziggi's has a wide selection to satisfy any craving. With a commitment to quality and customer service, it's no wonder why Ziggi's Coffee continues to grow in popularity across the nation.
Ellianos Coffee
If you're looking for a coffee shop business with a reputation for providing delicious and smooth coffee, Ellianos Coffee is a popular choice. With a wide range of espresso-based drinks and iced coffees, you're sure to find something you love.
Not to mention, the breakfast sandwiches, pastries, and desserts are the perfect complement to your cup of joe. Locals and tourists alike have sung the praises of Ellianos Coffee for years, making it a reliable choice for coffee lovers looking for a consistent and delicious pick-me-up.
Whether you need your caffeine fix on the go or prefer to linger in a cozy atmosphere, Ellianos Coffee has everything you need to fuel your day.
Dunn Brothers Coffee
Dunn Brothers Coffee is not just a coffee shop; it's an experience, a journey into the world of artisan coffee. With a commitment to quality, sustainability, and community, Dunn Brothers Coffee has carved a unique niche in the coffee industry
What sets Dunn Brothers apart is their on-site roasting. Unlike many coffee chains, they roast their beans fresh daily in each store. This commitment to freshness ensures that every cup of Dunn Brothers coffee is bursting with flavor and aroma, elevating the coffee-drinking experience.
Tim Hortons
Founded in 1964 by hockey legend Tim Hortons, the brand has a rich history deeply ingrained in Canadian heritage. It's known for its coffee, donuts, and iconic "Timbits." The brand's commitment to quality and community involvement has earned it a loyal customer base.
While known for its coffee and donuts, Tim Hortons has diversified its menu to include sandwiches, soups, and other food items. This expanded offering caters to a wider range of tastes and meal occasions, making it a versatile franchise option.
If you're looking for a potentially profitable industry to dive into as an entrepreneur, coffee shop franchises may be a good option. The whole coffee chain industry has a substantial number of customers and is expanding, making it an attractive market to enter. The success of coffee shop franchise units is a testament to their ability to provide a consistent and reliable coffee experience to consumers worldwide.
You can select from various types of coffee shop franchise business models. Some offer a comfortable and social atmosphere, while others focus on specialty coffee and have a stylish environment. There are also options that prioritize quick and convenient service, such as drive-thrus or kiosks.
Entrepreneur's Franchise 500 for 2022 has recognized several coffee shop franchises that are both affordable and profitable. These franchises have distinct strengths and offerings of the best coffee franchises that cater to different types of coffee enthusiasts.
Coffee shop franchises often rely on the strength of their brand to attract customers. Royalty fees contribute to marketing efforts, advertising campaigns, and brand development activities that help maintain and enhance brand recognition. This benefits all franchisees by driving foot traffic to their stores. Royalty fees help fund training programs for baristas, store managers, and staff, ensuring that business owner and their teams are well-equipped to deliver quality products and excellent customer service.
To ensure that the coffee shop franchise you choose is aligned with your aspirations and provides a strong foundation for success, it's important to conduct extensive research. As well as considering your goals, target market, location, and budget, and seek the advice of a franchise consultant before making a decision.