For countless business offers in franchising, there is one that you should consider – a daycare franchise. Is it worth the investment? Imagine, in the 2018 survey, there are almost 4,000,000 childcare centers in the US, and most are franchised!
The growing childcare franchises prove to be a well-established brand. It has unlocked a lot of franchise opportunities. You got to own a business by providing childcare services. How could this be a perfect franchise?
Business evolves and so as education. The normal mindset about childcare centers is that parents got to send their toddlers to pay for a babysitter. But, it's not limited to that.
In this generation, the childcare industry offers more than that. A plain mindset to daycare has evolved to be adventure kids' play care.
Working parents nowadays are more supportive of their kids' early childhood education. They even send their children to a childcare center to develop their character values. For most parents, early education for their kids is a head start before taking formal schooling.
Childcare franchises are not just a business but also with a vision of nurturing children. There are five proven facts why you should consider investing in a childcare franchise. But first, let's discover what a daycare franchise is.
What is a Daycare Franchise?
A daycare franchise business provides childcare services to help working parents in supervising their young ones. This franchise gives business owners the opportunity to expand into different locations without investing their own money.
If you franchise your daycare business, you are allowing other investors to duplicate your operations—along with the branding, services, and knowledge—in exchange for a franchise fee. 
Here are some of the information you need to know when buying a franchise in the childcare sector:
One of the successful and highly profitable industries in franchising is the Daycare Franchise. So why should you invest in it?
4 Reasons Why Invest in a Daycare Franchise
Daycare franchises open a door to a lot of benefits. It is now identified in providing an early childhood education. More to that marketing strategy, it is observed in the society that toddlers and older children are more responsible. Thanks to the daycare industry for promoting the core values!
Look around your community and you'll see how a daycare franchise makes life easier for those busy parents. Most of them work full-time. They simply leave their children in child care and go on with their work without any negative thoughts about their child's safety.
There are top 4 reasons why you should invest in child care.
1. This business fits you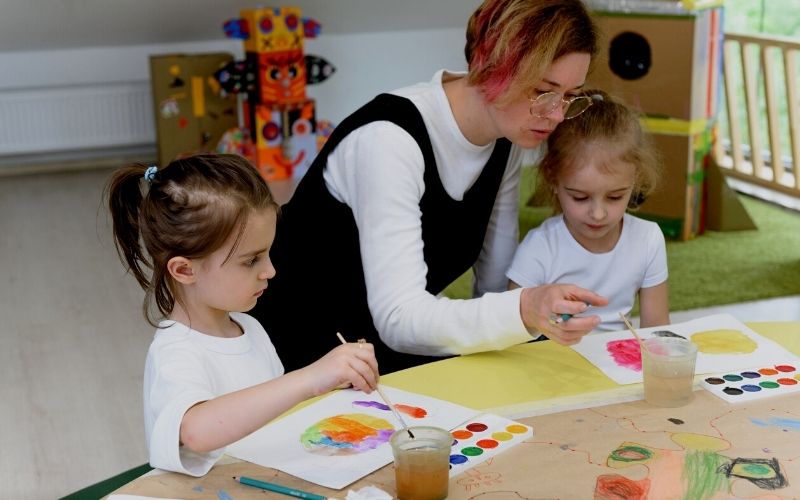 Your love of kids is not enough reason to own a daycare franchise. But if you have the requirements above, no one can stop you from achieving this franchise opportunity. You can be one of the successful childcare business franchise owners in the future.
Additionally, the daycare franchise has now a lot of sectors. Some include art lessons, swimming lessons, cooking and baking, gardening, and a lot more. These activities are provided either of the 2 types of child care centers that you can manage:
Home-based Care.
One unique scheme in this type of franchise is that you have an option to run the business in the comfort of your home. Low-cost is the advantage but the limited headcount of children to handle is quite a disadvantage.
Center-based Care.
The ambiance in center-based care is near to be a preschool setup. The facility normally has playgrounds, playrooms, and a lunchroom. The bigger the facility, the more staff you need. This also means more initial startup costs. But if you think of it, you can accommodate more children in center-based care.
Investing your own business in child care franchise opportunities is a perfect start. You can turn it into a great learning experience academy of early education.
2. Child care industry is stable
The childcare business offers a high-quality learning experience more than the fact that they provide child care. This industry's profit margin and size have grown in recent years.
In 2017, the profit margin of the child daycare industry was 6.5%. This brought an industry revenue of $41, 560,000. In 2018, annual profits rose to 9.9%. In 2023, the estimated revenue in the childcare industry is around 50 billion dollars. The business is recession-resistant.
What makes this industry that stable? Think about the fact that around 10,000 babies are born in the US each day. The never-ending growing population of toddlers is one amazing factor why there are high profitable returns in daycare franchises.
The future for daycare franchises looks bright. Net profits have increased since 2011. Over the past few decades, the number of child care facilities has increased. In 1987, there were only 262,000 units. Today, there are over 4,000,000 facilities.
The child care industry has a one-of-a-kind franchise system.  To provide not just plain child care but also to teach early education to children. You will be able to run a business while pursuing your passion for educating children.
Another fact that the daycare franchise is proven worth investing in is because it is a profitable business to own.
3. Is a lucrative franchise to own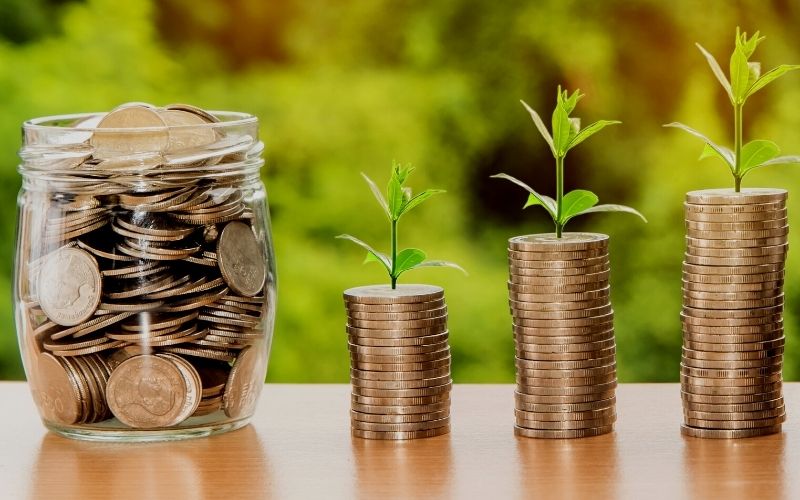 Daycare franchise is producing many franchises as years pass by. The competition is getting more customers is in the air.
Is a growing childcare center a threat to one another? Not really.
You will not run out of any franchise opportunity in child care services. A good reputation is a major key element to gaining parents' trust. Besides, this is a lifetime business that can give you great profits.
As mentioned, the marginal profits in the daycare franchise are increasing. But take note, the value of your profitable returns still depends on the daycare center type.
If we go back to the home-based care versus the center-based care, there are advantages and disadvantages in each of them. Let's have a wider discussion about their differences in its profit-making phase.
Home-based care offers low-cost fees.
If your capital is not that much, you can start your childcare franchise of this type. You can run the business right to your home. Hiring more play crew is not necessary.
Little Sunshine's Playhouse is one example of home-based child care that started in 1998. The business was first operated in Springfield, Missouri. Now, they have 30 locations in ten different States.
The thing is that in home-based care your market is limited. You can only accept customers enough to accommodate inside your house. You can still expect good returns on investment from your capital's average.
Center-based care is a huge type
Here you have to:
On the 2022 survey, the Primrose Schools is one of the top center-based child care in the United States. Started the business in 1982, then opened to franchising in 1988. As of today, the school has a total of 454 franchise locations and all are located in the US.
This has the total opposite to the convenience of franchising home-based care but the bigger space you offer to your target market, the more customers you can shelter. In due time, this also means much higher profitable returns.
A daycare franchise is a lucrative franchise to own. Aside from the value that you can get out of this franchising business, it also gives you benefits.
4. Owning a daycare franchise will benefit you
Planning to have a successful business is not always about money. At times it also means your passion for doing the things that you are most interested in. Just like owning a child care franchise. There are at least 4 benefits to owning this type of franchise model.
You can get the privilege of becoming a second parent to kids
Owning this kind of business will give you the opportunity to provide care and education to the kids. Truly a rewarding service you can offer.
Knowing that many parents seek a proper facility that can provide the best care for their children while they are working. And part of it is looking for a reliable teacher who will take place as a second parent for their children.
So if you have a reputable business, you will be easily considered by many parents in your area. Being the second parent is a privilege that comes after the passion you have in your business.
If you have the experience and skills in teaching, handling a daycare is easier for you.
It provides a must-have essential service
Purchasing a business that has an existing system and tested in the child care industry will give you the edge. Therefore, the services you will offer are well-planned.
You run a business that provides learning and childcare services to meet children's needs. Also, you will conduct activity programs tailored for children.
And most importantly, the type of service you provide is essential to many parents who have a secular job. They prefer to leave their children to the nearest daycare center and fetch them after work. Therefore, not only this business helps moms out there, but the demand could withstand for longer years.
Experiences from your customers convert into free advertisements
This is obvious. Holding a good reputation in running the business makes your customers recommend you to their relatives and friends. You'll be surprised if some of your customers know each other. 
Their experience will last that even if their kids graduate in childcare, your service will be remembered. Their word of mouth is a free advertisement for your business. It is an unintentional marketing strategy.
Franchisees need to be passionate about helping children because they engage kids in creative activities and educational programs. They need to be detail-oriented when following the latest rules and regulations of the industry.
They have to be adept at hiring and leading the right staff. A franchisee will have a long-lasting benefit. Just maintain your passion at work.
Owning a franchise helps one find balance.
Everyone needs balance. Running a franchise business that gives you the flexibility of your time really matters. It allows you to prioritize some aspects of your life, whether personal or family-related.
Compared to working in a corporate world, you are rushing every time. If we are overworked, we place our health in danger. The worst-case scenario is the risk of family bond breakdown.
But owning a daycare franchise, the working environment is less pressure, and you hold your time. Indeed can bring positive effects on yourself mentally, emotionally, and physically.
the size of your school and the number of classrooms, 
you may need one teacher to work in each
room, and teacher aides to assist.
Many parents work full time. They cannot take care of their children during the day. The daycare industry takes care of kids during the day when their parents cannot.
The fact that this type of industry is way growing, gives the sense that this can be a perfect choice of franchise. It boosts the possible kick on your ROI as the demand keeps on stretching.
If you are in doubt about whether to try a daycare franchise opportunity or check something else, it would be better to reach out to a franchise coach.