More are becoming interested in acquiring a franchise as a quick start to run an owned business. But, most of those franchise hunters are also confused about which model best fits them. If you feel the same way, consider the B2B franchise as it has more advantages to own than any other business type. 
The thing is, there are common reasons why many potential franchisees got confused about what franchise model to buy. One of those is that there are a lot of options to choose from. Others are just really undecided yet. While some are searching for the most advantageous franchise business.
To help you think of the best one, you will know what a B2B franchise is and the benefits of owning such a business model. How is this different from others? Is the business manageable even to starters? The details below will help you see its worth.
What is a B2B Franchise Model?
B2B or business-to-business franchise is a model that transacts to a different business type. Its target market is not more on individual consumers but companies or organizations that sell or offer different products or services.
B2B franchise has two types:
B2B Services
This franchise type offers services or assistance needed by another company. For example, a fast-food franchise might need help to manage finances and payroll accounts. Perhaps, an accounting firm franchise is what they need.
B2B Product
Different from services, B2B product is a type of B2B franchise that offers certain merchandise. Let's say a coffee shop needs a supplier for plastic cups with a printed design and logo. A graphics and sign franchise business can close the deal of supplying such needs.
Though both have different functions it has the same goal – to negotiate and close a partnership with another business or company in their area. So what are the benefits of owning a b2b franchise? Please keep scrolling.
6 Advantages of Owning a B2B Franchise
Even if there are benefits of owning a franchise business, the b2b franchise to be exact also comes with advantages that one should know. B2B may not that well-known, especially to franchising newbies. But, to get to know more, below is the list of its edges among the rest.
1. The target market is on a larger scale
Since a b2b franchise targets companies or other businesses, it has a wider scope of providing services or products. Let's take for example the coffee shop earlier. Imagine how many cups it requires the graphics and sign business to produce each week. It could be hundreds of them or thousands in a month.
That is just in a single company, with one specific product order. And what if it has gained more than one partnership with other businesses within its territory? One good advantage of the b2b franchise business is that it can make deals with companies in different industries.
2. Higher profitable returns compare to B2C
B2C or the business-to-consumer model is a typical franchise business. It is a good choice for starters because B2C is easy to manage. It even is the most franchised business since it also is profitable. And most small businesses are into this franchise business type.
But compared to this franchise model, a b2b business produces more profitable returns. One reason is that orders come in bulk, and so a b2b franchisee will receive a high amount of money for each transaction. A large wholesale than selling products or services in retail shows a more profitable source of income in a franchise.
3. B2B franchise establishes long-term business relationships
One of the advantages of a b2b franchise model is the fact that the franchisee can build a lasting partnership with its supplied company or organization. The only thing needed is to reach out and make some negotiations. When a deal is closed, it often leads to years of agreement as long as expectations are met.
A b2b franchise will have a well-established business through these partnerships. It is important to keep what has been agreed on to maintain the client's trust. Open communication is also a must to avoid any misunderstandings that can affect the business. Doing so will keep the agreement strong.
4. Less operational expenses
The good thing about a b2b franchise is that this business doesn't need to be in a specific location. Unlike a b2c set-up where its location should be in the center of its target market, a b2b can be sited in a commercial area as long as it's accessible.
Also, the operation is always for mass production. It means there are much more products or services that have to be completed each day. The business site is not an issue and labor is expected to produce a high volume of finished products on a daily basis. These will certainly result in reduced operating costs.
5. B2b franchise quickly generates particular leads
Compared to b2c, there are more advantages of a b2b franchise model. One of them is its ability to generate more specific leads. In a b2c, a franchisee has to maintain its consumers' trust to keep the business up and running.
While in a b2b business, the franchisee takes control of its market volume depending on its chosen business size. Plus, b2b transactions are now available online. One email can start a negotiation. And will end up with the signing of agreements.
Such new ways to reach out to companies are proven effective and easy. Only the B2B franchise model can make use of digital platforms to reach possible clients.
6. Sales revenue is fast
This is an obvious benefit of owning a b2b franchise business. A large number of products or services per transaction is proof that a franchisee can see an immediate result in its total sales revenue. Profitable returns are visible just after one order is delivered.
A great strategy in the b2b franchise is to cross-sell and upsell products or services. Let's say you own a pharma franchise and supply hand sanitizer refills to a hotel. To take advantage of the opportunity, you will try to offer other products that you have. How great it would be to supply multiple products in one company.
All of the advantages of a b2b franchise model mentioned above are just a few of the positive results one can experience in owning such a business.
Are you Qualified to Own a B2B Franchise?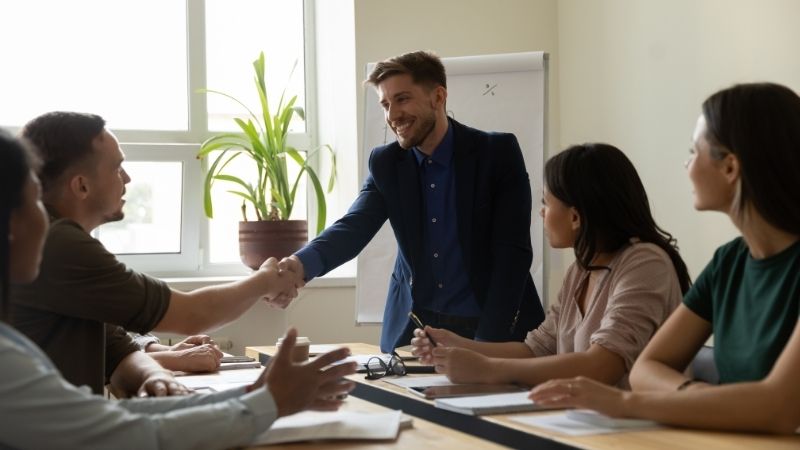 One of the major values of B2B franchise ownership is that you do not necessarily need to have experience in a particular field to become a franchisee in that field. Franchise systems provide extensive training and help. The purpose is to make you the right person who can be successful without prior industry experience.
For an instance, a fireman can find new life as an owner of a printer/copier cartridge refilling franchise. A CFO may find a second career providing window blinds to office buildings. What can be more important than experience is that you have certain personality traits needed in that business.
As a B2B franchisee, you will obviously need to be very comfortable with meeting people and networking with other business owners. General sales or marketing experience may be helpful in many businesses applications. Even more, a firm belief in your product or service will help you sell its benefits to your clients.
Of course, hiring a salesperson to drive in business may be a good strategy if you lack sales experience. A willingness to follow the franchisor's systems and processes is a necessity for any franchisee.
If you like to reinvent the wheel at every opportunity, you won't be happy or successful as a franchisee. Those most likely to be successful franchisees understand that the franchisor's business model has been constructed. And it is for the sole purpose of providing the franchisee with the greatest chance for success.
If you are interested in B2B business ownership, there's probably no better way than to become a franchisee of a stable, well-established, and vital franchise company. You will find all the training, help, and camaraderie that you've been looking for.
Their business models and operating systems will get you up and running quickly. But when thinking of franchise opportunities, don't overlook the growing area of B2B franchises. Whether product or service, the business-to-business arena is fairly booming and the possibilities are endless.
Bonus Read: "Turnkey Franchise: Is it Profitable to Own?"